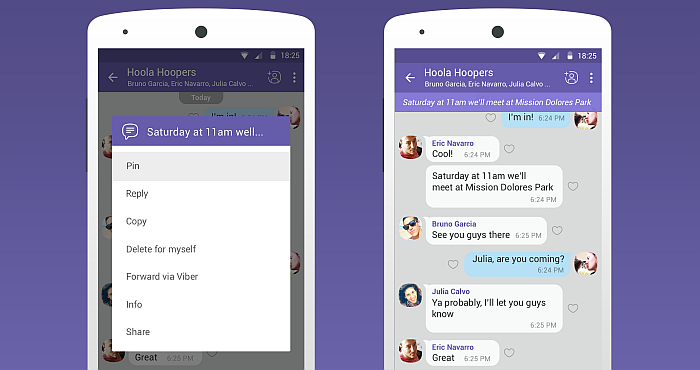 With a fighter spirit, Viber is still trying hard to survive and catch up with new and more active messaging apps by adding features that have been available to those apps for quite a while but considered new to Viber Messenger. It really is something to admire when you think about the humble start of Viber as a plain and simple instant messaging app, yet it was able to grow with time and become the popular app it has become among the fierce competition in a world crowded with similar apps that does the same job with more features. And it definitely is seen as a win for users who prefer Viber and more comfortable using it over other messaging app, like Whatsapp or Telegram, to have the same features of these apps available on their favorite app.
In its latest released update of Viber is mainly focused on group chats and broadcasts. The first one of the features added in the recent update enables admin of group chats to pin messages to the top of their conversations, allowing members of the group to see important messages or announcements right away when they open the chat on the banner at the top of the conversations. Pinned messages can be added and removed only by the admin of the group.
Replies to a single message in a group conversation is the second newly added feature to Viber 7.7.0. This feature works exactly like it does in other apps, just tap a for one or two seconds on the message you want to reply to then tap on reply button and start typing your reply to get it sent with the original message. This feature, like in other apps it is available in, eliminates the usual confusion that happens in group chats when members read a reply to an old message in the group and they are not sure to whom a specific message is sent.
The third and last feature of this updated version of Viber Messenger is broadcast messages and lists. This feature comes in very handy when you have a message that does not need to have a group conversation created for it, but you still want to send it to a large number of contacts all at once just the one time. For example when a store or a pharmacy wants to inform its clients that a certain product or drug is available or out of stock.